Financial Support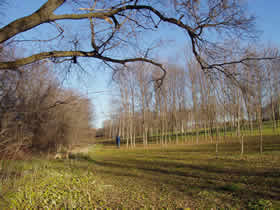 Development of Henteleff Park is possible only with the support of our many partners and supporters. Fundraising efforts for the park's development are ongoing. Donations can be made for general development purposes (e.gs., park signage, trees) or earmarked for the proposed Interpretive Centre.
Mail your tax deductible donation to:
Henteleff Park Foundation
748 Borebank St.
Winnipeg, MB R3N 1G4
Volunteers
Volunteers make the Henteleff Park dream happen. Numerous people and organizations offer their time, expertise and assistance toward Henteleff Park projects. Whether it be a few hours to help at the annual spring and / or fall tree plantings, or an ongoing commitment on the Board of Directors, Henteleff Park offers many opportunities for you to become involved in your community.
We are looking for energetic new members to join our board or work on our committees. Interested individuals:
should have an interest in our natural habitat, recreational opportunities, and human history;
should have skills to help develop and build our park e.g., site development, marketing, fundraising; and
must commit to attend 8 to 10 meetings a year.
Board committees include:
Site Development
Interpretive Centre
Marketing & Public Relations
Finance
Potential projects and skills include writing, habitat inventories, newsletter content and delivery, post / event announcements and distribution, interpretive centre fundraising, and so on. Limitless!
Please contact us for opportunities.