Since its inception in 2002 the Henteleff Park Foundation has worked to fulfil its mandate to enhance and protect the park. While much work remains, significant steps have been achieved. First, the HPF had the site re-zoned as parkland, developed The Henteleff Park Framework Plan, and signed a Memorandum of Agreement with the City of Winnipeg. Other activities followed:
Site Development
secured over $200,000 to plant trees, install paths and enhance Normand Creek
planted over 5,000 native trees and shrubs
organized annual spring and fall planting events with over 300 volunteers participating
secured funding for Urban Green Teams each summer since 2004
spent $30,000 to improve the park entrance area
construction of the entry gate, road and parking lot
planting a buffer of trees along the south property line
Trail Development
installed 1,600 linear metres of wood chip trails
installed three benches and two waste receptacles along the trails
Restoration of Normand Creek
improved fish habitat and breeding locations
removed a disused crossing of the creek and repaired adjacent banks
constructed a new road bed, a fish-friendly culvert and enhanced pedestrian crossing
Interpretation of the Site
researched river trade, Metis occupation, market gardening and settlement patterns in the Red River Valley
developed interpretive signage depicting the land and its history, Normand Creek enhancement, riparian forest, and elements of the tree nursery
initiated guided Nature Walks
Friends of Henteleff Park
A city-wide network of volunteers working to build and improve the park.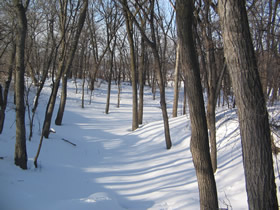 created an audiovisual presentation depicting the past, present and future of Henteleff Park
distributed a quarterly newsletter
secured funding from both private and public sectors.