Interpretive Centre Opens
On a beautiful Saturday afternoon at the end of August, over 150 people gathered at Henteleff Park for the official opening of the new Interpretive Centre.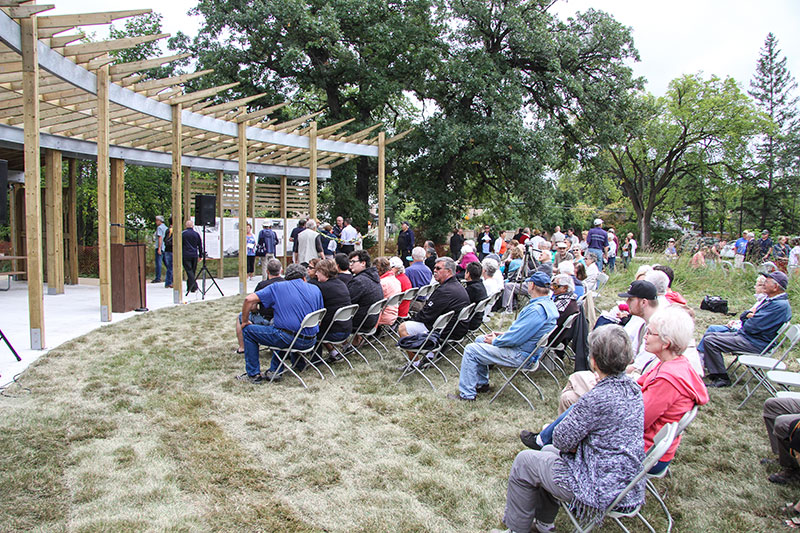 Located at the park's entrance at 1964 St. Mary's Road and near the original homestead of the Henteleff family, the Interpretive Centre features a Shelter Building that displays panels of information that leads to a new circular pathway with additional information panels, all-weather notebooks, new bench seating and landscaping.
"We were overwhelmed by the support we received and the turnout at our event," said Yude Henteleff, President Emeritus, Henteleff Park Foundation. "It was an honour to share our family story and the contributions of other Jewish farm families in the province as well as pay tribute to the Metis families who played a large role in the settling and developing of the land."
"This park means so much to so many and we thank all the volunteers, board members, donors and supporters who have worked hard to make the Interpretive Centre a reality and who continue to assist us to ensure the park remains a place of beauty and tranquility for all to share."
Friends and Neighbours Share Their Stories
"Saw the article on the CBC website on the grand opening of the park. Just wanted to drop you a note thanking your team for this beautiful gift to the area. We walk the paths daily, even in winter, and feel so privileged that we have this life giving and life-centering oasis so close by. It contributes greatly to the physical and mental health of all who use it. Thanks for all your hard work through the years in making this park a reality for us and future generations."
Lionel and Jane Martens
"On January 6, 2016 my husband Andy passed away from a massive heart attack. One of his many favourite places was Henteleff Park. He discovered it many years ago while out for his morning walk and he always felt he had stumbled upon an unknown treasure not many knew about. When he would take me out for dinner he would bring me there for a walk together and he would share it with me. He was an avid outdoorsman."
Anna Mittelstadt
With her consent, we acknowledge a very special gift by Anna Mittelstadt to the Henteleff Park Foundation.
In his memory and his love for the park, Anna has donated sufficient funds to pay for a bench, its installation and a memorial plaque. It is now installed on the pathway leading from the shelter building.
Our heartfelt thanks to Anna for this most moving gift.
Transcona Friends and Neighbours
New homes for our little friends
See if you can spot the 10 new bird nest boxes scattered throughout the park. This spring will be flurry of activity when our little friends come to nest. Thanks to Guent Salzmann and the Manitoba Bluebird Fund (MBF) for making it all possible and we look forward to our continued association with MBF. A special thanks is also extended to Karl Thordorson and his City of Winnipeg crew for the coordination and execution of the installation project.
Attention Tree Huggers!
Manitoba Maple, Nannyberry, Bur Oak, Plains Cottonwood and Trembling Aspen are just a few of the native trees indigenous to Henteleff Park. Thanks to Arborist Michael Allen, a beautiful colourful listing with accompanying descriptions of the 11 trees found in our park are now listed on our website here:
http://henteleffpark.org/native-trees-indigenous-to-henteleff-park/
Strengthen our community's roots
Support the Henteleff Park Foundation
The development of Henteleff Park is possible only with the support of our many partners, funders and friends.
As part of our Stewardship Program, the Henteleff Park Foundation, along with the City of Winnipeg, has established a long-term development plan for the future of the park that includes vegetation management, wildlife observations, community gardens demonstration project, programming and special events, management in conjunction with the Friends of Henteleff Park and other opportunities for regular community involvement.
Please consider making a donation today that will help ensure that future generations can continue to appreciate the significance of the land that forms the roots of our community.
Please make cheques payable to The Henteleff Park Foundation
748 Borebank St. Winnipeg, MB R3N 1G4 (204) 488-9004
Henteleff Park Foundation is a CRA registered charity
The Bus Stops Here
With much thanks to the Winnipeg Transit Authority, we will soon have a bus stop located at the entrance to our park at 1964 St. Mary's Road. Marked "Henteleff Park", transit riders can easily make Henteleff Park part of their travels.
Please Join Us!
Henteleff Park Foundation is looking for new board members!
If you would like to help out, or you would like more information, please contact Saul Henteleff at members@henteleffpark.org
Gift Giving Made Easy!
Henteleff Park Foundation have t-shirts and umbrellas for sale for just $20 each. Contact info@henteleffpark.org to order yours today!
Would you like to receive our newsletter? Please join here!